Exclusively for our Home Furniture Customers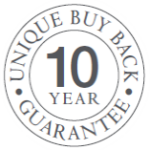 After 30 years' of manufacturing we know how enduringly tough our beautiful furniture is. It is made to last – and that is a promise. Which is why we offer Oxley's home furniture customers a simple, powerful guarantee: we will buy back any piece of furniture you've bought from us within 10 years of you buying it, for half its original price*.
We will then reprocess and recycle your furniture, making it new again so it can enjoy a second life in another home. For us, this is sustainability in action and we are very proud to be able to work in this way, doing our bit to help protect the environment.
For you it means you can own the Oxley's furniture you want, risk free.
Our unique guarantee also gives you the opportunity to offset half the cost of your original set against a new set of Oxley's furniture, allowing you to update the style, colour or size of your furniture as your circumstances change.
*Terms and Conditions
This guarantee only applies to: original Oxley's customers who have owned their Oxley's furniture for 12 months or more (the original purchaser must be registered as an Oxley's customer). Only furniture, not cushions, and not sales items. The net price of purchase and not any purchase tax (VAT). If you'd like us to collect your furniture, we will at an agreeable rate.